Remembering the "Three Million Mile Volvo Man"
At the age of 77 and with 3.2 million miles to his name, Irv Gordon has sadly passed away. Irv is survived by the original Volvo P1800 he had bought in 1966 and which has earned him a World Record for carrying him the equivalent of 7 roundtrips to the moon.
Irv never set out to become a World Record holder, in fact, he simply wanted a reliable ride after two bad experiences with new vehicles. Upon purchasing his P1800, he notched 1,500 miles after his first weekend of ownership. What business did a middle-school science teacher have to put in so many miles so soon? He simply loved the drive.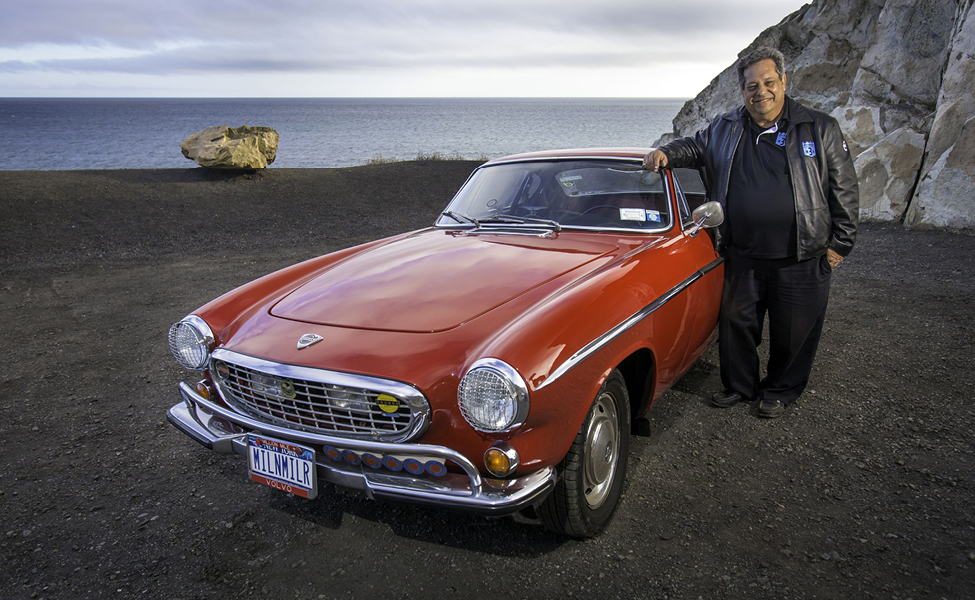 "Obviously, I like to drive." Irv once said, "It's my way of relaxing and getting away from it all." He never looked back from that weekend of mileage, taking every opportunity to lose himself behind the wheel of his Volvo. At 250,000 miles and with no repair work outside of regularly scheduled services, Irv wrote to Volvo and they responded with: 'We're happy you're happy with the product, don't forget to buckle up.' Irv wrote again at 500,000 miles and again at the million-mile mark, at which point someone at Volvo took notice and gifted Irv a brand-new 780 coupe.
Irv's passion for driving has allowed him to put in mileage all over the world. Acting as a brand ambassador for Volvo Cars, Irv brought his P1800 to auto shows throughout Europe. He was even invited to visit the factory where his vehicle was built. Irv was also flown to South Africa by Castrol Motor Oil for a campaign highlighting the oil's performance and reliability.

Irv's advice for keeping your car running forever was simple: Follow the factory service manual, replace worn or broken parts immediately, don't let anyone else drive your car and always use the turn signal. Irv was so careful with his Volvo, he has never been at fault for an accident.
In all the years Irv drove his P1800, parts that routinely wore out were replaced and the engine rebuilt, but the engine block and the transmission are all original. When asked if he would ever give the old Volvo up if it simply wouldn't start, Irv replied: "No such thing, it'd never happen. If it didn't start, I'd find out why it didn't start and fix it."
During his countless road trips, Irv says his favourite drivers come from the North, "Seems to me that Canadians are generally more courteous, at least compared to New York City drivers. It always amazes me as to how many Canadian drivers actually use their directional signals, something most U.S. drivers have forgotten about. However, I've got to say that Canadians drive a lot faster regardless of the posted speed limit."
A friend of Volvo Cars
When the news broke that Irv had passed away, Volvo Cars released a statement paying tribute to Irv's dedication to Volvo:
It is with great sadness that Volvo Car USA learned of Irv Gordon's passing yesterday.
We've been lucky to be along for Irv's countless adventures, perhaps none more monumental than when he passed three million miles in his red 1966 P1800 in 2013 in Alaska, a record that no other individual has accomplished in more than 100 years of automobile manufacturing.
Irv never set out to break world records, to him, he was simply living his life in his Volvo. And today, we celebrate his legendary life.
Before he passed away Irv was sure a contender would eventually come along to break his record. "All records are made to be broken! I'm sure somebody will eventually break it," he says. "I'm just doing the best I can to make it as hard as possible."
By the numbers:
Three million miles of driving is roughly equivalent to:
120 trips around the earth
124 free flights with an average airline's frequent-flyer miles program
Driving 500 miles a day for 16 years straight
3 billion IKEA desks placed side-by-side
14.8 billion ABBA Greatest Hits on vinyl laid side-by-side
Irv Gordon's P1800 has consumed:
107,400 gallons of gasoline
3,316 quarts of motor oil
829 oil filters
464 spark plugs
156 tires
29 sets of brake pads
29 fan belts
4 sets of shock absorbers
3 water pumps
3 generators
Impressed by Irv's story? Book a test drive with Volvo Saskatoon today and find out why he fell in love with these special vehicles.